Little Giant bolted couplings are non-corrosive and non-conductive, are lightweight, easy to use, and provide a quick and effective way to connect sections of pipe or to repair broken or damaged pipe. These couplings can be used in place of PVC, steel, and asbestos cement couplings. All Little Giant couplings are available with either zinc plated steel or 316 stainless steel bolts.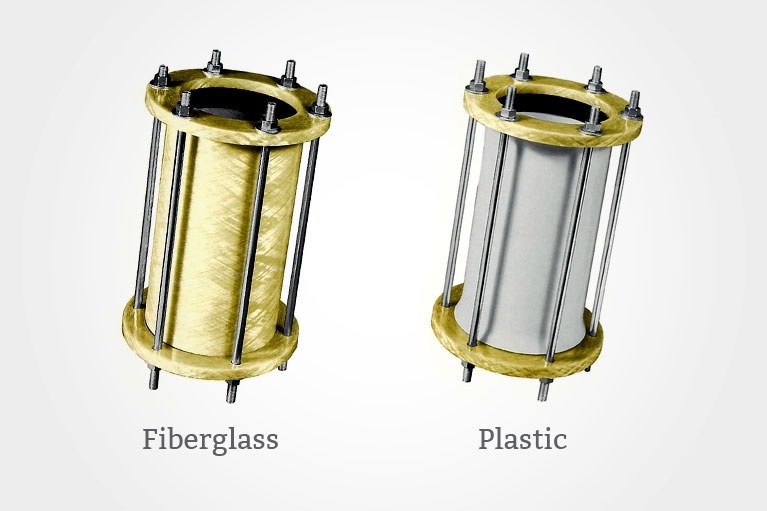 Fiberglass Couplings
Little Giant fiberglass reinforced plastic bolted couplings are constructed with a high strength filament-wound fiberglass bodies and flanges. Available in 2" through 16" pipe sizes to fit plastic irrigation pipe (PIP), iron pipe sizes (IPS), fiberglass, asbestos cement, cast iron, or aluminum. Standard body lengths of 6", 12", 18" and 24". Other lengths are available on request. Transition (reducing) couplings are used for joining lines of different sizes and/ or materials and are available in two styles: transition made in the body of the coupling of through the use of a transition gasket. All couplings are available in either standard (300 PSI) or high (500 PSI) pressure ratings.
Plastic Couplings
Little Giant plastic (polyvinyl chloride) bolted couplings are constructed with a PVC body and filament-wound fiberglass flanges. Made to fit plastic irrigation pipe (PIP) sizes 6" through 12" diameters, these couplings are available in 12" and 18" body lengths. Working pressure 100 PSI.